Research and development
Collaborative research projects
You will find below some of the research projects to which Cnam-Enjmin has contributed!
Example projects
Le projet "The 'Terra Dynamica' project aims to model urban life with a city's inhabitants, crowds, vehicles and traffic.
"Jeu Serai" is a serious game that builds up a psychological profile of the player, based on an analysis of his/her behaviour, with the objective of helping with careers guidance.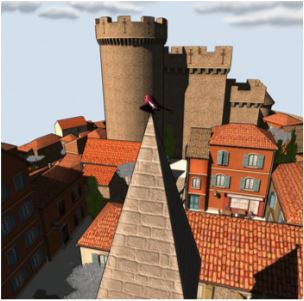 "Le Village aux Oiseaux" is a therapeutic video game for the treatment of attention disorders.
"PLUG" is one of the first games played in a museum with a geo-localized mobile phone.
Partnerships and collaborations
Cnam-Enjmin, together with the Poitiers University, ÉESI and Cnam-Cédric, can help you.
As part of a direct partnership, within the framework of a Cifre thesis and national and European collaborative projects (ANR, FUI...), we have worked or are currently working with:
Are you looking for partners for your research projects?
Feel free to contact Cnam-Enjmin!
Major areas of expertise
Advanced systems and devices for human-woman machine interaction

Principle and tools for Game Design, application to useful games

Transmedia games and ubiquitous games

Psychological and sociological model of the player and adaptive games

Methods and tools for interactive sound

Games and disability