The godparents of the JMIN master's programme
P1 (2004-2006)
Frédéric RAYNAL

P2 (2005-2007)
Eric VIENNOT

P3 (2006-2008)
Jordan MECHNER

P4 (2007-2009)
Serge HASCOET

P5 (2008-2010)
Serge HASCOET

P6 (2009-2011)
Philippe ULRICH
et Pierre GINER

P7 (2010-2012)
Xavier POIX

P8 (2011-2013)
Jurie HORNEMAN

P9 (2012-2014)
Gary CARR

P10 (2013-2015)
Patrice DESILETS

P11 (2014-2016)
Dirk RIEGERT

P12 (2015-2017)
Célia HODENT

P13 (2016-2018)
Christophe HÉRAL

P14 (2017-2019)
David BOWMAN

P15 (2018-2020)
Audrey LEPRINCE,
Julie CHALMETTE
et Farhanaz ELAHÉE
David BOWMAN interview, godfather of the 2017-2019 graduating class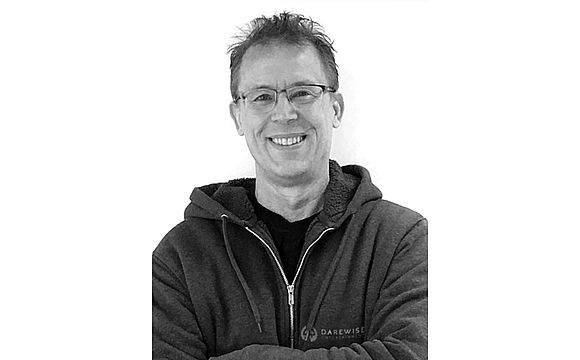 Can you describe your career ?
Started as a designer at Bungie when it was a small studio in Chicago. When Microsoft bought Bungie, I moved to Massachusetts to join the startup MMO studio Turbine as Design Director, then became the VP of Development. Moved to Arizona to be VP of Product Development at Artifact Entertainment working on an MMO. Later became the CEO of Tulga Games in order to restructure the company. Then helped found Certain Affinity in Austin as the Design Director, Producer, and Business Development (startup, we all had multiple responsibilities). Then helped found Burst Online Entertainment in Philadelphia as VP of Product Development and Executive Producer. Moved to Germany to join Crytek as Publisher Producer, then became the Director of Production. Returned to the USA as VP of Production for Telltale Games. Then joined Darewise in Paris as the consulting VP of Product in May of this year, which will convert to permanent in October.

What position do you currently occupy?
Currently I'm the VP of Product at Darewise in Paris. We're building a company that creates AAA experiences on multiple platforms. We are now developing a virtual world with a team of 20 very experienced developers.

How and why did you become the godfather of a JMIN Master's promotion?
I was first invited to visit and do a presentation while I was at Crytek. It was great meeting the students and faculty, and I was impressed with what was evolving in Angoulême. I returned several times afterward to be involved, as well as volunteered to meet with students on Skype twice a week to provide feedback on their projects. It's been incredibly fun to be inspired by new ideas and to share the excitement that students bring to the game industry. I was delighted to be asked to be more deeply involved for this year.

This is not the first time that you will follow student projects, what are for you the strengths of the master degree?
The program gives students an opportunity to form teams, to learn the real-world ramifications of being dependent on other humans with their strengths and weaknesses, and to grow their understanding of all of the requirements necessary for the delivery of a complete experience at the end of the process. As a student, they are are able to take risks, and be experimental, in a way that is rarely available in the corporate game development environment.

What would you like to say to the young graduates?
I'm looking forward with anticipation to getting to know you, to provide whatever support I can to help you learn what you want to personally discover during your studies. I will provide perspective from my experience, and try to challenge you to think deeply about not just how and what you are doing, but why.